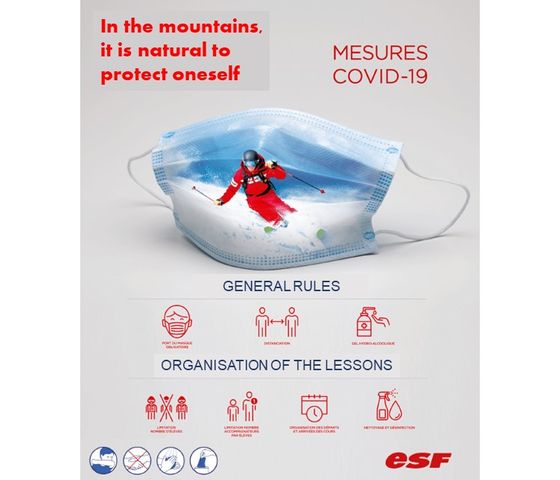 TOGETHER
FACE TO THE VIRUS
THIS WINTER, IN ORDER TO WELCOME YOU IN THE BEST POSSIBLE CONDITIONS, THE ESF IS PUTTING IN PLACE STRICT HYGIENE RULES.
PRIORITY IS GIVEN TO THE PROTECTION OF THE PUPILS, THEIR FAMILIES AND OUR STAFF.
Informations General Terms and Conditions of Sale
For all bookings that are cancelled on account of COVID-19, all sums paid shall, upon presentation of proof (such as a medical certificate or a copy of an institutional decision):
Be carried over, if this is possible, otherwise,
Be refunded.
To find out more about our general terms and conditions of sale, click here


The measures below are based on the current health situation and will be updated according to government information.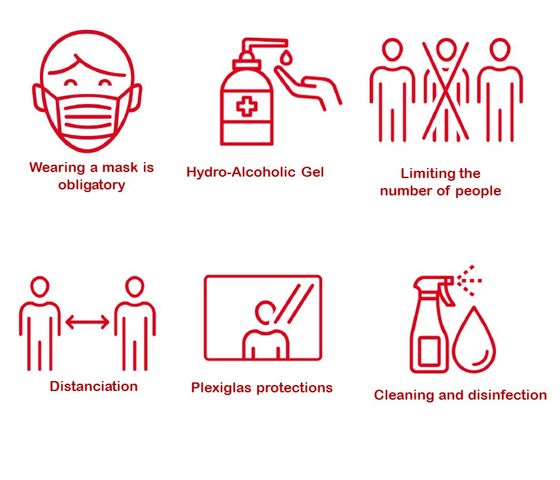 Wearing a mask is compulsory
Hydro-Alcoholic Gel at the entrance to the offices
Limiting the number of clients inside the offices
Respect for social distancing
Plexiglas equipment for the protection of workstations
Cleaning and disinfection of the equipment used
Course cards: Privileged E-card - Ski passes: Sent to your home or dropped off at the accommodation provider.
Wearing of the mask is compulsory at all gatherings at the start and return of lessons, for instructors and for students aged 11 and over.
Limitation of the number of accompanying adults per student (1)
Organisation of course departures and arrivals to limit crossings and the duration of gatherings
Social distancing in groups (1 stick = distance)
Cleaning and disinfection of the equipment used ( DVA,...)