GRAB YouR BOARD AND GO SnowboardING with esf SAINT MARTIN de BELLEVILLE
FOR 13 to 18 year olds
ride the slopes with our experts at esf
Discover or come back to snowboarding and improve your riding!
Enjoy life on a snowboard with our qualified team of snowboard instructors from Saint Martin. Feel free on your board and learn the styles and techniques required to master snowboarding.
At ESF we have developed a programme for all levels to help you progress. They will learn how to stand on a board, slide down slopes and also turn both ways facing the slope in controlled movements. The programme also includes boarding on a mogul field.



Recommended protection:
Helmet, wrist and knee protectors, back and coccyx protection.
(For beginners, helmet and wrist protectors).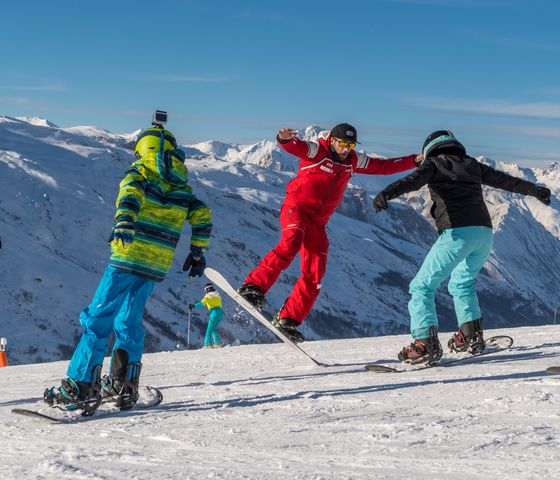 ORGANISATION of snowboard lessons
From St Martin, snowboarding lessons are only offered in private lessons.Group snowboard lessons are organised in Les Menuires throughout the season.
Levels Beginner and Snow 1 : lessons are proposed in the afternoon when the snow conditions are more advantageous for learning
Lessons departing from both La Croisette and Les Bruyeres.

Levels Snow 2, Snow 3 and Expert : morning lesssons.